he Stamp 400 Pneumatic 3-plate heat press is a transfer machine that will allow you to turn your designs into reality in a very short time. It is a machine designed for large quantities and allows you to print between 300 and 400 garments per hour. Since it consists of three plates and has automatic operation in terms of raising and lowering the plate, you will save a huge amount of time and also achieve the best results. The temperature and pressure in the pneumatic models is adjustable, so you will be able to perfect the print of each transfer on your garments and obtain the highest quality.
This heat transfer machine has a power of 4,000 W and a maximum pressure of 8 Bar, which means that you will be able to work with all the techniques available on the market for transfer design. The temperature that it allows reaches up to 250º, and the time to apply pressure has a maximum of 99 seconds.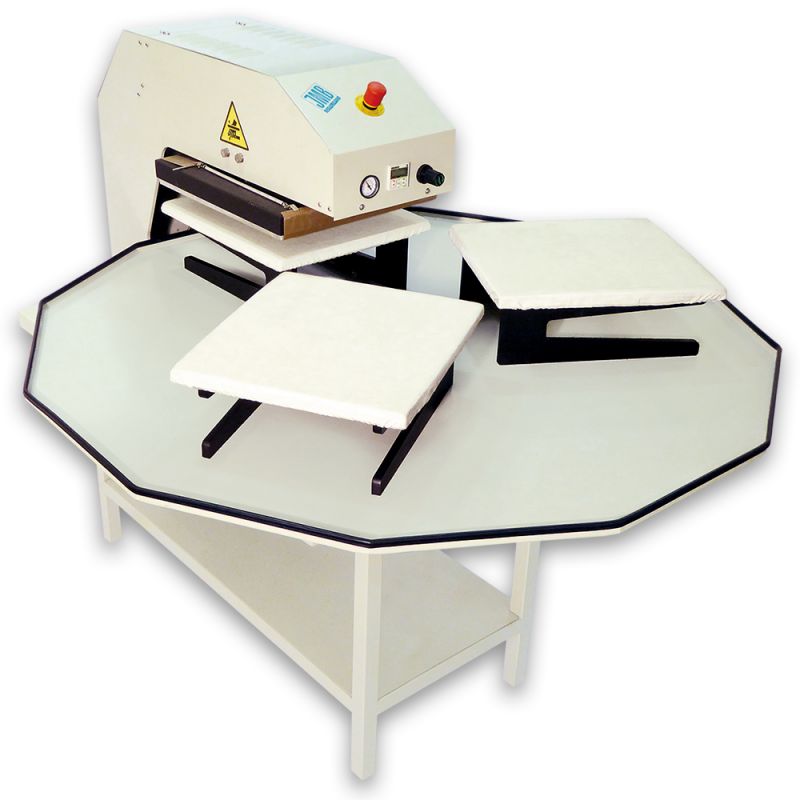 Data sheet
Plate size: 40×45cm x 3
Temperature: 0 > 250ºC
Time: 0 > 99 seconds
Maximum pressure: 8 Bar
Power: 4,000W
Voltage: 220V – 50/60Hz
Dimensions: 160x190x170cm
Weight: 230 Kg.
Stamp 400 Pneumatic Transfer Heat Press Machine 3 Plates for printing t-shirts
The Stamp 400 Pneumatic 3 Platen heat press is a machine for printing t-shirts and other textile garments on a large scale, which will be ideal if you have a very high production volume. At JMB we have been working in the textile printing sector for decades and we position ourselves as leaders. Now you can get your Stamp 400 with 3 plates and our best guarantee, contact us for more information!
You may also be interested in…